Kunio Hatoyama, Minister of Justice, from August 27, 2007 was the most prolific hangman in Japan's postwar history. Called the "grim reaper" by the Asahi Shinbun (News), he ordered 13 executions during his tenure. He is well known for suggesting that offenders should be executed without the authorization of the Minister of Justice, in a conveyor belt fashion. He believes the death penalty is necessary because "Japan places more value on life than the west." Listed below are an assortment of his flip-flops and often inane comments.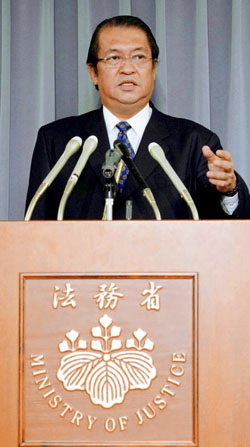 Hatoyama a hawk on death penalty, illegal immigrants

The Japan Times: Tuesday, Sept. 4, 2007

Remove justice minister from execution process: Hatoyama

The Japan Times: Wednesday, Sept. 26, 2007


'Inhuman' Hatoyama snubs Kamei
The Japan Times: Saturday, Sept. 29, 2007


Hangings not humane way: Hatoyama

The Japan Times: Thursday, Oct. 25, 2007


Hatoyama: "No need for ban on executions."

Saturday, Nov. 10, 2007


Justice minister blasts Asahi newspaper for calling him 'Grim Reaper'

Friday 20th June, 2008