JIADEP note: Is passing out leaflets a crime? Certainly if they oppose the views of the government of espouse the views of the Communist Party. Arakawa is of the latter variety. Arakawa was found not guilty by the district court and convicted by the higher court.

Other similar cases are
Tachikawa Leafletting Case
~~~~~~~~~~~~~~~~~~~~~~~~


2006/08/29


Handing out political matter OK: court By AKEMI NAKAMURA Staff writer

The Tokyo District Court acquitted a Buddhist monk Monday on charges of trespassing at a housing complex in Katsushika Ward, Tokyo, while distributing fliers for the Japanese Communist Party in December 2004.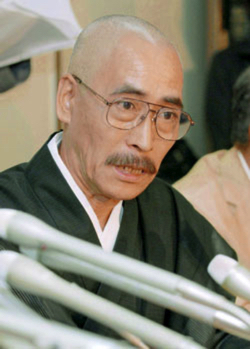 News photo
Buddhist Monk Yosei Arakawa speaks to reporters Monday after he was acquitted by the Tokyo District Court of trespassing charges. KYODO PHOTOS


"It was tremendous torture that I was detained for 23 days and had to go through this trial for 1 1/2 years," Yosei Arakawa said at a news conference after the ruling. "I'm delighted (with the ruling) because it may stop (police) suppression of free speech."

Presiding Judge Takaaki Oshima said distributing political leaflets in the building was not illegal because such acts have long been considered socially acceptable.

Prosecutors had asked that Arakawa be fined 100,000 yen for trespassing.

According to the court, Arakawa entered the seven-story condominium complex Dec. 23, 2004, to distribute fliers that contained reports and questionnaires from the JCP members of the Tokyo Metropolitan Assembly.

A resident on the third floor told Arakawa to stop putting leaflets into mailboxes and called police.

Arakawa was arrested on the spot on suspicion of trespassing.

Oshima said Arakawa did not enter the building to commit a crime or engage in other harmful activities, and added that distributing the fliers caused little if any disruption or danger to residents' daily lives or privacy.

"Each building can decide (who can enter) and (should) show (signs) clearly so visitors can notice. If visitors ignore such warnings and enter the building, it would be trespassing," he said.

In this case, the building had signs at the entrance banning the distribution of leaflets without permission, but the signs referred to commercial fliers and those deemed harmful, and did not mention political leaflets, the judge said.

News photo
Yosei Arakawa celebrates outside the Tokyo District Court after he was acquitted Monday of trespassing at a housing complex while distributing fliers for the Japanese Communist Party.

One of Arakawa's lawyers, Osuke Nakamura, said the ruling is an important check on police and prosecutors, who in recent years have sought to curb freedom of expression by arresting people who distribute political fliers.

In one recent case, three peace activists were arrested in 2004 for trespassing while posting antiwar leaflets at a Self-Defense Forces housing compound in Tachikawa, western Tokyo. They were fined between 100,000 yen and 200,000 yen by the Tokyo High Court in 2005.

In another case, a Social Insurance Agency official who distributed JCP newspapers was fined 100,000 yen in June by the Tokyo District Court, which found that the official had violated the National Civil Service Law limiting public servants from engaging in political activities. The fine was suspended.

"(Today's) not-guilty verdict is a quite natural conclusion because commercial businesses distribute various leaflets every day in condo complexes," Nakamura said.

"Residents have the freedom to throw away fliers that they don't want, and should tell distributors not to post anything in their mailboxes."

Although Arakawa said he will continue to pass out political fliers, as he has done for 40 years, he added that he realizes it is necessary to think about how they are distributed because people have become more concerned about the security of their buildings.
The Japan Times: Tuesday, Aug. 29, 2006



~~~~~~~~~~~~~~~~~~~~~~~~~~~~~~~~~~~~~~~~~~~~~~

2007/12/12



Canvassing monk found guilty of trespassing Wednesday, Dec. 12, 2007 By JUN HONGO Staff writer

A Buddhist monk passing out fliers for the Japanese Communist Party was found guilty Tuesday of trespassing by the Tokyo High Court, which overturned a lower court ruling.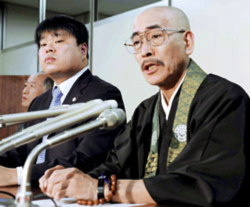 News photo Yosei Arakawa (right) speaks to reporters Tuesday after the Tokyo High Court found him guilty of trespassing in a trial he says was based on the right to free speech. KYODO PHOTO Last year, the Tokyo District Court ruled that Yosei Arakawa, a priest with the Shinshu Otani Buddhist sect, was within his constitutional rights to pass out the leaflets at a condo complex in Tokyo in 2004, despite ignoring no trespassing signs. Arakawa branded the latest ruling "groundless" and said the appeal by prosecutors was an attempt to censure his freedom of speech and expression. Presiding Judge Osamu Ikeda stated that notices posted at the complex prohibiting distribution of leaflets represented the consensus of the residents, which took precedence over Arakawa's rights. Arakawa was fined ¥50,000 for the violation. The constitutional right to free speech and expression "must be held with utmost respect" but should not be guaranteed "absolutely and without restriction," Ikeda ruled. Dressed in his black priest's attire, Arakawa looked intently at the judge as the verdict was handed down. "The ruling disregarded both the Constitution and a social norm," Arakawa, 60, said afterward, with prayer beads in his hand. An appeal to the Supreme Court was immediately filed, he said. According to the court, Arakawa distributed JCP fliers at a seven-story condo complex in Katsushika Ward at around 2:20 p.m. on Dec. 23, 2004. Arakawa was told to stop by a resident on the third floor, who called police. Officers dispatched from Kameari Police Station arrested Arakawa for trespassing. Police then conducted a search of the monk's residence, which Arakawa's lawyers denounced as "completely uncalled for." Though the company managing the complex had banned distribution of leaflets, passing out fliers is a common practice and within Arakawa's right to free speech, the lawyers argued. In August 2006, the Tokyo District Court ruled in favor of the monk, stating that distributing political leaflets is socially acceptable and that the accused was not engaged in illegal activities. But the prosecutors, who had demanded a ¥100,000 fine imposed on Arakawa, filed an appeal on the grounds that passing out fliers did not justify trespassing. Though the housing complex lacked an automated gate, this was not an invitation to free entrance, but only indicated that "such a system was not popular at the time of the building's construction," the prosecutors argued during the appeal process. In Tuesday's ruling, Judge Ikeda acknowledged that Arakawa's motive for entering the property was not malicious but suggested other methods were available to him to exercise his right to freedom of expression. "The residents of the housing complex should not be required to endure forbidden entries" because of Arakawa's constitutional right, the judge said. One of Arakawa's lawyers, Osuke Nakamura, told reporters he was "astonished and furious" with the ruling, noting that leaflets are distributed at the housing complex every day and that the manager had received no complaints about the practice. Arakawa's supporters, including JCP members of the Katsushika ward assembly such as Shingo Nakamura, asserted that the monk was persistently persecuted for passing out JCP fliers. "The ruling clearly had its eye on hounding the JCP," Nakamura told reporters after the trial.

~~~~~~~~~~~~~~~~~~~~~~~~


EDITORIAL: Arrest, detention, trial for this? Friday, Sept. 1, 2006 Japan Times

On the afternoon of Dec. 23, 2004, Mr. Yosei Arakawa, a 58-year-old Buddhist monk, entered a seven-story condominium building in Katsushika Ward, Tokyo, to drop political flyers of the Japan Communist Party into the door mailboxes of residents. He had done this before, but this time an angry resident telephoned police, who took him into custody. A 23-day detention of Mr. Arakawa was followed by his indictment on a charge of trespassing. After a 1 1/2-year-long trial, he was acquitted by the Tokyo District Court on Monday. Mr. Arakawa's case represents the fourth one in Tokyo since February 2004 in which ordinary citizens or civil servants engaged in distributing political leaflets have been indicted on a charge of either trespassing or violating the national public servant law. Although the court in Mr. Arakawa's case did not cite Article 21 of the Constitution, which guarantees freedom of speech and other forms of expression, in handing down the "not guilty" ruling, we hope the ruling will deter police and prosecutors from making liberal use of trespassing and other charges to prevent citizens from distributing political leaflets. The ruling first of all pointed out that since the corridors, elevators and staircases of a condominium building connect with residents' apartments, entering them without good reason constitutes trespassing. Then, pointing out that the defendant did not enter the building to commit a crime or conduct other harmful activities, it based its judgment of whether Mr. Arakawa's entry constituted trespassing on two criteria: (1) the shape of the condominium as well as the entrant's purpose, behavior and actions, and (2) the existence of a socially accepted consensus with regard to allowing or prohibiting such entry. The ruling noted that the constitutional guarantee of the right to distribute political leaflets does not necessarily mean that entering a condominium building for such purpose is unconditionally permitted. But it listed several mitigating factors, including the fact that the leaflets distributed by the Buddhist monk, which told of JCP members' activities in the Tokyo Metropolitan and Katsushika assemblies, were unlikely to have given residents reason to fear that their peace and privacy were about to be violated; that nobody stopped the monk when he entered the building; and that he stayed in the building for only seven or eight minutes. Although a notice in the first-floor lobby did prohibit the posting of ad leaflets and entry by outsiders, it read as if it applied only to commercial flyers, and people could easily walk by without noticing it, the court pointed out. In sum, the court said even if the defendant entered the building against the will of the residents' association, his action cannot necessarily be regarded as "entry without good reason." It went on to emphasize that it is difficult to say whether there is a socially accepted consensus against someone entering a corridor or staircase in the daytime for a short time, even though people, especially in urban areas, have developed a strong sense of privacy and crime-prevention awareness as evidenced by the spread of auto-lock systems at building entrances and "no entry" notices. Although the ruling did not refer to the constitutional guarantee of freedom of expression in acquitting the defendant, it appears the court carefully weighed that right as well as people's general unease over outsiders' entering their buildings. The situation behind the Buddhist monk's arrest, however, raises a common-sense question: What did Mr. Arakawa do to deserve arrest? According to the Tokyo Shimbun, Mr. Arakawa left one corridor when a resident got angry. Wishing to avoid future trouble, Mr. Arakawa came back and asked the resident, "Please tell me your room number so that I don't leave leaflets at your door in the future." The resident again got angry and called police. Mr. Arakawa waited on the first floor for police to come as he was told to do. In February 2004, three citizens were arrested for distributing flyers at housing for Self-Defense Force members in Tachikawa, Tokyo. The flyers expressed opposition to sending a Ground Self-Defense Force unit to Iraq. Although the defendants were acquitted in the first trial, the Tokyo High Court last December found them guilty of trespassing, pointing out that they repeatedly distributed leaflets despite protests from residents. Actions by police and prosecutors in this and other cases against citizens who distribute political leaflets have already intimidated people engaged in an array of civic and political activities. Higher courts, and especially the Supreme Court, must not slight the constitutional guarantee of freedom of expression.

~~~~~~~~~~~~~~~~~~~~~~~~~~~~~~