JUSTICE MINISTER
Hideo Hiraoka

Sept, 3, 2011 ~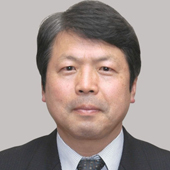 Date of birth: Jan. 14, 1954
Party: DPJ
Electoral district: Lower House; Yamaguchi No. 2 (fifth term)
Hiraoka passed both the bar exam and the civil service exam while attending the University of Tokyo.
He entered the Finance Ministry in 1976, and resigned in 1998 after working in the National Tax Agency's corporate tax department.
Hiraoka took public office for the first time in 2000, winning a Lower House seat representing Yamaguchi Prefecture's No. 2 district, long a stronghold of the rival Liberal Democratic Party.
In the 2005 general election, a landslide victory for the LDP driven by Prime Minister Junichiro Koizumi's popularity, Hiraoka lost his seat by a mere 588 votes, but managed to stay in the Lower House through proportional representation.
He took back the Yamaguchi No. 2 seat in 2008.
Hiraoka was appointed state secretary for internal affairs and communications in September 2010.

~~~~~~~~~~~
New justice minister won't OK executions in near future

Sep. 04, 2011 - 09:51AM JST



TOKYO —
Japan Today
Newly appointed Justice Minister Hideo Hiraoka, speaking at his first news conference on Friday night, said that he had no plans to approve any executions of death-row inmates in the foreseeable future.
No condemned convicts have been executed in Japan for more than a year. Currently, Japanese prisons have 120 inmates on death row — the highest figure in recent history. Since the last execution was carried out 13 months ago, 16 new death sentences have been handed down by courts. Of these, eight cases involved rulings in which citizen jurors took part.
Hiraoka said there was a growing movement worldwide to abolish the death penalty and said he wants to study both sides the issue more deeply. "The death penalty is always a last resort and I must be extremely cautious about making a decision to approve an execution. For the time being, I can't see any executions going ahead."