Kobayashi Kaoru

'I WANT TO BE EXECUTED QUICKLY'
Pedophile to hang for killing Nara girl
Wednesday, Sept. 27, 2006


NARA (Kyodo) A repeat sex offender was sentenced to death Tuesday for the kidnap-murder of a 7-year-old girl in 2004 in a gruesome case in which he used the victim's cell phone to send her mother a photo of the corpse and to threaten to kill the girl's sister.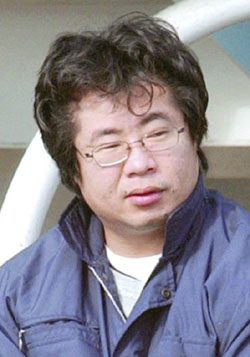 Kaoru Kobayashi
KYODO PHOTOS


Calling Kaoru Kobayashi's actions "coldblooded and vicious," presiding Judge Tetsuya Okuda of the Nara District Court ruled he committed all eight criminal counts against him and said, "There are no extenuating circumstances."

Prosecutors sought the gallows for the 37-year-old newspaper deliveryman over the murder of Kaede Ariyama of Nara Prefecture, saying he cannot be rehabilitated.

Kobayashi's counsel had argued for a lighter sentence, claiming society was partially to blame for his crime because he had an unfortunate upbringing that turned him into a pedophile.

Kobayashi pleaded guilty. "I want to be executed quickly," he told the court.

Okuda read out the reasons for meting out the sentence and told a motionless Kobayashi to "face the seriousness of the crime."

The focus of the trial was whether he would get the death penalty.

Twenty people have received capital punishment for murder-robbery or repeat murders since 1983, when the Supreme Court set conditions for death sentences. However, no one until Kobayashi received it for a single count of murder committed in the act of molestation.

Kobayashi is believed to have offered a ride to Ariyama on Nov. 17, 2004, as she was on her way home from school in the city of Nara. He then abducted her, took her to his apartment in Sango, molested her and drowned her in his bathtub before dumping her mutilated corpse in a farm road gutter in the town of Heguri.



Flowers and toys lie Tuesday at the scene in Heguricho, Nara Prefecture, where 7-year-old Kaede Ariyama was found slain in 2004.


Kobayashi was accused of deciding to kill Ariyama because he felt she was intelligent and would alert police if he freed her.

He took a photo of the dead girl and sent it to her mother over the girl's mobile phone, and about a month later sent her a message threatening to target the girl's younger sister as well.

Kobayashi's trial, which began in April, was suspended in July while he underwent a psychiatric analysis. The professor in charge of the examination concluded he was highly likely to be a repeat offender.

Kobayashi has a record of sex offenses against children and the case spurred the Justice Ministry in June 2005 to begin sharing with the National Police Agency information on such offenders who have been freed from prison.

Okuda said it would be "extremely difficult" for Kobayashi to be rehabilitated, given his criminal record of sex offenses and because he has shown no remorse over Ariyama's slaying.

Hirohiko Tanaka, the principal of Ariyama's elementary school, told reporters after the ruling it is only natural that Kobayashi be hanged but added that this would never ease the family's sorrow.

He noted that even though nearly two years have passed since the killing, parents still accompany their children to and from the school, and teachers and parents lay flowers on Ariyama's desk, which was moved to the principal's office.

"For the children and parents, the case will never end," Tanaka said.

The Japan Times
(C) All rights reserved

Article 2 of 10 in National news


///////////////////////////////////////

Nara girl's murderer is on fast track to gallows
Thursday, Oct. 12, 2006


NARA (Kyodo) The death penalty for a man who kidnapped and murdered a 7-year-old Nara Prefecture girl in 2004 was finalized at midnight Tuesday after he withdrew his appeal earlier in the day, and it now appears the repeat sex offender is on a fast track to the gallows.

Kaoru Kobayashi, 37, is the 24th defendant whose district court-imposed death penalty has been finalized through the withdrawal of an appeal since 1966, when the Supreme Court began compiling such data. On Tuesday afternoon, the last day of the 14-day appeal period, Kobayashi submitted a request at his Nara prison to withdraw the appeal his lawyers filed with the Osaka High Court after the Nara District Court sentenced him to death on Sept. 26.

"I think he withdrew the appeal because he has accepted the ruling," said Hisako Nishiura, deputy chief prosecutor at the Nara District Public Prosecutor's Office.

"This case has attracted public attention, and it will be meaningless if the execution is carried out when people have forgotten about it. We will proceed with an early execution."

Kobayashi's lawyer said he tried to persuade his client to pursue the appeal, telling him he should try to explain to the court why he committed the crime. But the defendant's decision was firm.

"Society does not understand me whatever I say," the lawyer quoted him as saying.

The Nara District Court sentenced Kobayashi to death for kidnapping Kaede Ariyama on Nov. 17, 2004, and taking her to his apartment in Sango, Nara Prefecture, where he assaulted her. Afterward, the newspaper delivery man drowned her in his tub, mutilated her corpse and dumped it in the gutter of a rural road in Heguri, in the same prefecture.

He photographed the victim with her mobile phone and e-mailed the image to her mother. About a month later, he e-mailed a message threatening to also murder the girl's younger sister.

~~~~~~~~~~~