KOIZUMI TAKESHI


Killer of ex-health bureaucrat, wife to hang.
No new psych exam for man who murdered 'demons' to avenge dog.

Wednesday, March 31, 2010


SAITAMA (Kyodo) The Saitama District Court sentenced a 48-year-old man to death Tuesday for killing a former top health ministry bureaucrat and his wife and attempting to kill another woman in a series of attacks in 2008 that stunned the nation.

In meeting the sentencing demands of prosecutors, presiding Judge Yoshihisa Denda said Takeshi Koizumi should take full criminal responsibility for his acts, which were "tactical and premeditated in great detail."

Koizumi admitted to the charges in principle but pleaded not guilty, claiming he had "killed not people but demons with evil hearts," in a case that was initially thought to be a reaction the health ministry's pension record scandal. Instead, it was found the man was avenging the death of his pet dog.

Koizumi was convicted of fatally stabbing former Vice Health and Welfare Minister Takehiko Yamaguchi, 66, and his wife, Michiko, 61, at their home in the city of Saitama on Nov. 17, 2008.

He stabbed and seriously wounded Yasuko Yoshihara, 73, the wife of another former vice health and welfare minister, at the couple's Tokyo home on Nov. 18 that year, the court ruled.

Koizumi said he had a grudge against the ministry since junior high school because he thought a health care center killed his dog.

His lawyers argued he is mentally incompetent because of a delusional disorder. They asked the court to refrain from using the death sentence and to weigh the fact that he turned himself in.

Their request for another mental exam was rejected.

~~~~~~~~~~~~~~~~~~





~~~~~~~~~~~~~~~~~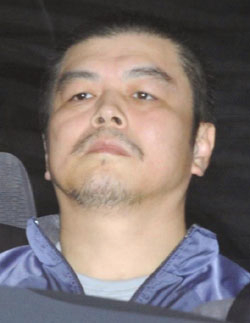 Prosecutors seek death for murderer
of ex-vice minister, wife

2009/Jan/13th

SAITAMA —


Prosecutors sought the death penalty Wednesday for a 47-year-old man accused of killing a former top health ministry bureaucrat and his wife, and attempting to kill the wife of another former official at their homes in Saitama and Tokyo in 2008.

Takeshi Koizumi, in the first hearing of his trial at the Saitama District Court in November, basically admitted to the charges but pleaded not guilty, claiming that he ''did not kill people but demons with evil hearts.''

He also said during the trial that he has not achieved his goal of killing every animal abuser, so he would continue to commit more murders if he is reincarnated. The prosecution apparently believes that he has no remorse for the killings, which it sees as premeditated crimes.

''Nothing but capital punishment is in the cards,'' a prosecutor said.

Koizumi is charged with fatally stabbing former Vice Minister of Health and Welfare Takehiko Yamaguchi, 66, and his wife Michiko, 61, at their home in the city of Saitama on Nov 17 last year. He is also charged with stabbing and seriously injuring Yasuko Yoshihara, 73, the wife of another former vice health and welfare minister, at their home in Tokyo the next day.

The verdict will be handed down on March 30 after closing arguments by the defense lawyers on Feb 10, according to the court schedule.

Before the prosecutors' closing arguments, five days of intensive hearings were held in mid-December.


~~~~~~~~~~~~~~~~~~~~~

Mental check urged for admitted 'beast' killer
2009/12/17


SAITAMA (Kyodo) Lawyers for a man accused of fatally stabbing a former health ministry bureaucrat and his wife and wounding another asked the court Wednesday to conduct a thorough mental analysis of their client.

The request by the lawyers for Takeshi Koizumi, 47, came during his fourth trial session before the Saitama District Court following a statement in the previous session that bewildered the public.

In the Nov. 26 session, Koizumi told the court he killed "beasts," not humans, as he explained his motives for fatally stabbing former vice health minister Takehiko Yamaguchi, 66, and his wife, Michiko, 61, at their home in the city of Saitama on Nov. 17 last year.

Koizumi is also charged with the attempted murder of Yasuko Yoshihara, 73, the wife of another former vice health minister, at the couple's Tokyo home the next day.

After his Nov. 22, 2008, arrest, Koizumi had initially told police he was upset with the health officials for policies that contributed to the killing of his pet dog, Chiro, which he claimed disappeared in his childhood and was later euthanized by a public health authority as a stray.

He turned himself in to police in Tokyo's Kasumigaseki district that day, arriving in a rented minivehicle carrying several knives and bloodstained gloves.

During Wednesday's session, Koizumi again brought up the pet-revenge story, telling the court: "Chiro was part of my family. So my family member was killed."

Koizumi continued, weeping: "I did it for revenge. Someone who took someone else's life must compensate by giving up his or her own life.

"I'm proud I did it. Actually, I deserve a reward," he added. "I will appeal any sentences unless I'm acquitted."

Given those statements, his counsel requested a full-fledged mental analysis.

They also criticized what they called the "shortcomings" by prosecutors who indicted Koizumi after quickly concluding he could be held criminally liable.

With the defense's request, the main focuses of the trial may shift to Koizumi's mental state at the time of the stabbings. Previously, the focus was whether he will win any leniency for turning himself in.


The stabbings occurred when Japan was also being rocked by the government pension record debacle. Koizumi had also planned to assault former Social Insurance Agency chief Kazuko Yokoo, a figure at the center of the pension fiasco.

~~~~~~~~~~~~~~


元次官宅連続襲撃:小泉被告に2審も死刑 東京高裁判決
2011年12月26日 


 3人が殺傷された元厚生事務次官宅連続襲撃事件で殺人罪などに問われた無職、小泉毅被告(49)の控訴審判決で、東京高裁は26日、求刑通り死刑を言い渡した1審・さいたま地裁判決(昨年3月)を支持、被告の控訴を棄却した。八木正一裁判長は完全責任能力を認め「計画性は極めて高く、冷酷・残虐な犯行で結果も重大。動機も独善的で死刑はやむを得ない」と述べた。
 弁護側は妄想性障害による心神喪失を主張したが、八木裁判長は「『34年前にいなくなった愛犬チロのあだ討ち』を動機とする小泉被告の主張には筋道において特段飛躍はなく了解できる」と指摘。完全責任能力があるとした起訴前鑑定を踏まえ「長期間にわたり周到かつ綿密に計画を立て、公判でも病的な妄想の存在を疑われる兆候はない」と述べた。
 判決によると、小泉被告は08年11月17日夜、さいたま市南区の旧厚生省元事務次官、山口剛彦さん(当時66歳)宅で、山口さんと妻美知子さん(同61歳)を包丁で刺殺。翌18日夜、東京都中野区の別の元次官宅で、元次官の妻を包丁で刺し重傷を負わせるなどした。【和田武士】