JIADEP NOTE: Sakae Menda was the first exoneree from death row in the postwar period. He spent 34 years under death row before being released.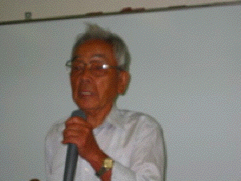 A Japanese man released from death row
speaks against death penalty at U.N.

Wednesday, October 17, 2007 at 13:43 EDT

NEW YORK — Sakae Menda, a man freed from death row more than 24 years ago in Japan, called on member states Tuesday at the United Nations to step up efforts to end the world's use of the death penalty as punishment.

"I have come to strongly believe in working and acting together with individuals who share an understanding in this cause; to abolish the death penalty so long as there is a danger of falsely convicting the innocent," he told an audience of delegates to the United Nations who had gathered to listen to him and two other men who were wrongly convicted speak out against capital punishment at an event organized by Amnesty International.

Now 81, Menda recalled the horror of being accused of murdering and injuring a family of four in Hitoyoshi City in Kumamoto Prefecture in 1948.

Not only was he coerced into a confession by teams of investigators who interrogated him for hours on end in three shifts, but in court key evidence supporting his alibi was ignored and false witness testimony was used to put him away.

Prior to his trial, he explained that his lawyer, a Buddhist priest, came once to pray for him, but offered no professional expertise to help him fight the false charges.

Once locked up, Menda explained the daily torture of living in fear that "you may be sent to your death at any given month, day or moment" as Japan does not inform inmates of their executions except on the morning that the sentence is to be carried out.


Finally after filing six petitions for a retrial and spending more than 30 years in prison, Menda was freed July 15, 1983, but saw at least 56 fellow inmates be sent to their deaths at the Fukuoka Detention Center and believed some of them to have been wrongly convicted as well.

"Being on death row dehumanizes and has a massive psychological effect on a person," he said. "It's an awful penalty to inflict on anyone, and is even more devastating for someone who is innocent."

American Ray Krone, another panelist, was held for a decade for murdering a barmaid, but eventually became the 100th American freed after DNA testing proved his innocence.

"It is a testimony to his (Menda's) character and personality that he was able to come out after all those years and still do what he does now, to be able to speak about it," Krone noted, stressing the importance of sharing the injustices they all experienced in hopes of making positive changes for the future. (Kyodo News)