Miyazawa-Lane Case 1941
English students and foreign faculty member of Hokkaido University convicted of spying after the breakout of war.
~~~~~~

JIADEP Note: This case is hardly well known but has surfaces over the LDP's support of a new secrecy law that can be used against journalists who become whistle blowers.

~~~~~~~~~~~~~~~~~~~~~~~~~~~~~

The picture below is from a recently issued pamphlet about the case.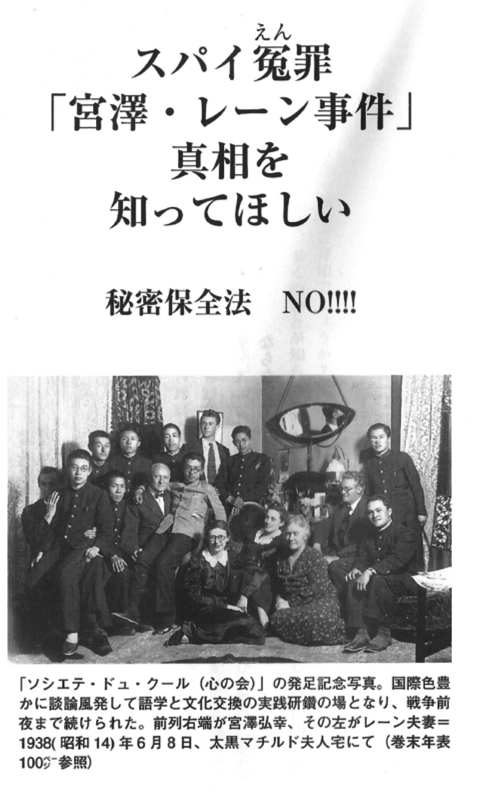 Societe Du Cour (spelling?) Association of the Heart/Kokoro no Kai

Photo taken June 8, 1938

This was a group interested in foreign language and culture.

Professor Harold Lane is seated near the middle. Miyazawa is seated at the far right. Sitting next to him on the floor is Mrs. Lane. The photo was taken at the home of Matilde Futozawa.


~~~~~~~~~~~~~~~~~~~~~~~~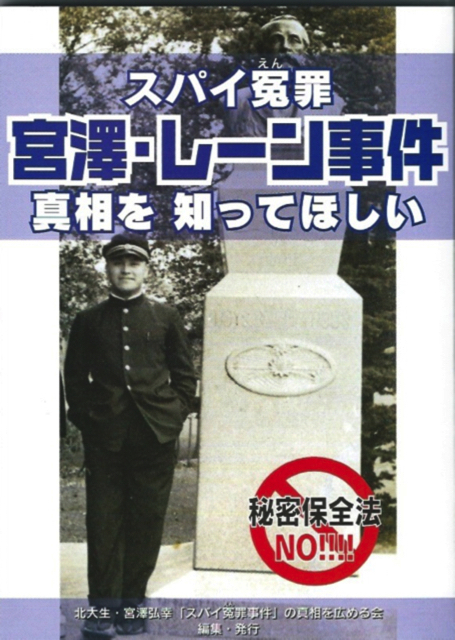 Cover of the Booklet entitled

Spy Enzai (Spy Wrongful Conviction)

Miyazawa-Lane Case

Seeking the Truth









~~~~~~~~~~~~~~~~~~~~~~~~~~~~~~~~~ Family of student accused of wartime spying warns against secrecy bill November 18, 2013(Mainichi Japan)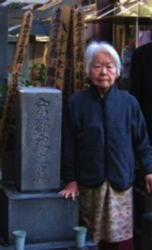 Mieko Akima stands by the grave of her late brother, Hiroyuki Miyazawa, at Joenji Temple in Tokyo's Shinjuku Ward during her visit to Japan last year. (Mainichi)


A wartime incident in which a Hokkaido University student was arrested on espionage charges on the day the Pacific War broke out is drawing rising attention amid growing controversy over the government-sponsored state secrets protection bill currently under Diet debate The so-called "Lane-Miyazawa Case" began to unfold on Dec. 8, 1941, when Hokkaido University student Hiroyuki Miyazawa was arrested along with English teacher Harold Lane and his wife on suspicion of violating the military secrets protection law. Although Miyazawa claimed his innocence, he was sentenced to 15 years in prison -- a ruling fixed in 1943. Some 40 years after the end of the war, however, it came to light that the content of the secrets that Miyazawa was accused of leaking was merely what he had seen and heard during his trips and information that had already been made public Miyazawa's 86-year-old sister, Mieko Akima, is concerned about the government's proposed secrecy bill, saying, "The scope of secrets (to be designated under the legislation) could expand indefinitely. I want politicians to be aware of the bill's danger by squarely facing up to past history," Akima, who currently lives in the United States, vividly recalls the day when her brother was arrested on Dec. 8, 1941. Officers with the special political police searched their home in Tokyo and confiscated Miyazawa's records and books bearing English titles. Akima, at that time, did not know why her brother was arrested. Although Miyazawa was released after the end of the war, he died of pulmonary tuberculosis in 1947, at age 27 It was about four decades later that Akima came to learn the "secrets" over which her brother was arrested. According to an investigation by lawyer Seikichi Ueda and others, Miyazawa told the Lanes what he'd learned on his trips to Karafuto (present-day Sakhalin in Russia) and other places, and the presence of a naval air base in Nemuro, Hokkaido, and a large number of Japanese troops and military police headquarters in Shanghai -- things that had already been in the public domain at the time he was arrested. Ueda is the author of a book titled "Aru Hokudaisei no junan -- Kokka himitsuho no tsumeato" (The sufferings of a Hokkaido University student -- scars of the national secret protection law), which was originally published in 1987 and was reissued by Kadensha in April this year Masaki Goro, 70, a lawyer belonging to the Sapporo Bar Association who is versed in the Lane-Miyazawa incident, said, "Miyazawa had a great deal of curiosity and energy, and continued to interact with foreign teachers amid the anti-foreign atmosphere back then. He may have easily caught the eye of the special political police "Under the then military secrets protection law, the scope of secrets expanded unlimitedly without allowing the public to know what the secrets were. If the state secrets protection bill is passed into law, bureaucrats and politicians will inevitably try to expand the scope of the law's application," Goro says Lately, Akima often recalls the "silence" she imposed on herself some 70 years ago. After her brother was arrested, she traveled over several days to the Abashiri Prison in Hokkaido from Tokyo on several occasions to deliver supplies to her brother. One time, a train home was delayed, forcing her to be absent from school without notice. "I could get killed by someone if I told them that I 'went to see my brother, who was arrested on espionage charges,'" she thought She was forced to stand in the school's courtyard all day long as punishment for missing classes, but she couldn't tell the reason for her absence to anyone "I want many people to know the history, so that the same mistake will never be repeated," Akima said.