Wednesday, Oct. 4, 2006

http://search.japantimes.co.jp/cgi-bin/nn20061004f1.html

CABINET INTERVIEW

New justice minister ready to sign death penalty orders


By
JUN HONGO

Staff writer

As the deputy chief Cabinet secretary, Jinen Nagase's duties before Prime Minister Shinzo Abe formed his Cabinet Sept. 26 had included assisting the prime minister on a broad range of issues varying from foreign affairs to formulating the budget.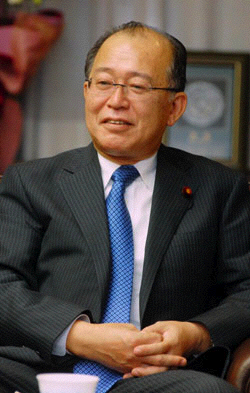 Jinen Nagase
YOSHIAKI MIURA PHOTO

Now that he has been appointed the justice minister, his job is comprised of equally significant issues but of a more controversial nature -- such as signing the final approval of executions.
"I realize there have been voices against the death penalty itself," Nagase said in an interview after receiving his portfolio. "But considering the feelings of the victims and
maintaining order in the society, I do not dispute the death penalty
."
During his inaugural news conference Sept. 26, the first-time Cabinet member stated that in a constitutional government, a finalized verdict under the law must be carried out.
Though he did not clearly state he would sign execution orders during his term, it is likely Japan will see its first hanging in more than a year.
The Criminal Procedure Law stipulates that executions must take place within six months after the verdict is finalized, but the last justice minister, Seiken Sugiura, did not sign a single order during his 11 months at the post. Approximately 90 prisoners are awaiting the final order of execution, which only the minister can issue.
"It's about ending a person's life, so it must be given careful consideration," Nagase said. "But rulings by the courts must not be ignored."
Numerous thorny problems prompted Nagase to observe that he was appointed to a "very busy government office," but the former senior vice minister of justice has plans mapped out for many of the issues.
Nagase said the basic structure for the new judicial arrangement that will introduce a de facto jury system in 2009 is in place. Now the task is to make sure the public understands and accepts the new system before it goes into effect.
He suggested that adopting a law making conspiracy a criminal offense is urgently needed for Japan to fulfill its duty as a member of international society.
A highly regarded expert on social policies, Nagase, who turned 63 on Tuesday, graduated from the University of Tokyo and worked in the labor ministry before turning to politics in 1990.
Following his success in the Lower House election that year, the Toyama Prefecture native went on during his six terms to hold such posts as parliamentary secretary to the welfare minister and senior vice justice minister.
His new job will have him facing one of the first concerns he addressed 16 years ago.
"The issue of accepting workers from overseas is something that I've been working on since I first became a lawmaker," he said.
He also acknowledged that balancing Japan's worker shortage and the growing concern regarding the number of crimes committed by foreigners is tricky.
But contrary to a proposal announced by a Justice Ministry panel a week ago, Nagase argues that limiting the number of foreign residents may not be the answer to the problem.
Although he says that regulating foreign workers without special skills is necessary, Nagase plans to have detailed discussions with other ministers depending on each job field and its need for foreign manpower.
"The current system welcomes foreign workers with special skills, but there are those who say that not many specialists have actually come to work here. There could be a deficiency in the current structure," he said.
While some of Nagase's colleagues have claimed in the past that he lacks vigor as a politician and needs to work on his public performance,
the justice minister appeared fairly comfortable in his new chair as he smoked three cigarettes during a 40-minute interview
.
"Am I the only one who smokes here? Smokers are treated to feel so small these days," Nagase joked, putting reporters around him at ease.