JIADEP Note: Detaining a suspect for three months for such a crime is a travesty.
~~~~~~~~~~~~~~~~~~~~

Nurse acquitted of tormenting elderly patients
Friday, Sept. 17, 2010


FUKUOKA (Kyodo) A high court acquitted a nurse in Fukuoka Prefecture on Thursday of injuring two elderly patients with dementia whose nails were removed while she cut them in 2007, recognizing her act as "necessary and proper" nursing care.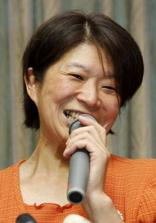 News photo
Free: Nurse Satomi Ueda holds a news conference in Fukuoka on Thursday after she was acquitted of injuring two elderly patients. KYODO PHOTO

In scrapping a lower court decision that found Satomi Ueda, 44, guilty and gave her a suspended prison term, the Fukuoka High Court also raised doubts about the credibility of her confessions to investigators in which she said she intentionally removed the nails of the female patients, aged 89 and 70.

"Some suspicions remain that the confessions could have been either forced or led" by the investigators, presiding Judge Hiroo Suyama said in handing down the ruling.

Ueda said she was happy with the decision and that she can now "continue to serve as a nurse with a sense of relief."

The high court said bleeding resulting from cutting too deeply may indicate a certain degree of inappropriateness but as "as an act of nursing care, the means and method she took did not go beyond the reasonable range."

The prosecutors had accused her of injuring the patients by removing their nails. They called the high-court decision regrettable and said they will review the ruling to decide their next move.

The Kokura branch of the Fukuoka District Court in March last year sentenced Ueda to six months in prison, suspended for three years, saying she took pleasure in making the patients bleed by cutting their nails.

The high court ruling said in June 2007, she clipped the toenails of the two patients with dedicated clippers at a hospital in Kitakyushu. Both bled slightly.

The right middle fingernail of the 70-year-old patient came off when Ueda removed a bandage that was covering the nail to see its condition and she did not intentionally remove the nail, according to the ruling.

The court said Ueda could be blamed for clipping the right thumbnails of the two patients too deep, but that act was intended for nursing care and was necessary, the decision said.
Appeal court rules nurse was only doing her job in removing
elderly patients' toenails


Nurse's acquittal finalized over patients' nail-clipping injuries

01 October 2010
FUKUOKA —


The Fukuoka High Public Prosecutors Office said Thursday it has given up appealing a high court ruling that acquitted a nurse of injuring two elderly dementia patients by clipping their nails too deep at a hospital in Fukuoka Prefecture in 2007.

The deadline for the prosecutor office's appeal came midnight Thursday, finalizing the acquittal of Satomi Ueda, 44, who headed a nursing unit at Kitakyushu Yahata Higashi Hospital in the city of Kitakyushu. Yoshiaki Iwahashi, deputy chief prosecutor at the office, said the office has decided not to appeal the ruling as it was difficult to find appropriate reasons to do so.

Ueda was arrested in July 2007 and detained for more than three months. After her release on bail, she has been working as a nurse at a different hospital in Kitakyushu.



~~~~~~~~~~~~~~~~~~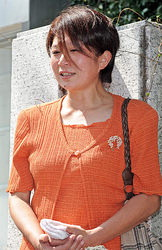 Satomi Ueda is pictured in front of the Fukuoka High Court in Fukuoka's Chuo Ward on Sept. 16. (Mainichi)


FUKUOKA -- The Fukuoka High Court found a nurse accused of removing two elderly patients' toenails not guilty, saying her conduct was in line with her job as it overturned a lower court ruling.

Satomi Ueda, 44, had been sentenced to six months in prison, suspended for three years, after she allegedly injured two female patients with dementia -- aged 70 and 89 -- by removing their toenails using a nail clipper at Kitakyushu Yahatahigashi Hospital in Fukuoka Prefecture in June 2007.

The Fukuoka High Court dismissed the lower court ruling on Sept. 16, and acquitted her of the assault charge.

"Even though she caused bodily injury to the patients, her conduct was part of nursing care and was in line with her job. There was no illegality in it," Presiding Judge Hiroo Suyama said during the ruling, suggesting there was a false recognition of the facts in the original judgment.

The first trial focused on whether the defendant's act of removing the patients' toenails was in line with her duty as a nurse. Prosecutors had demanded a 10-month prison term for Ueda.

The Fukuoka District Court's Kokura Branch pointed out that removing the patients' toenails would not immediately be regarded as assault; however, it found the woman guilty of "cutting the patients' nails for her own fun, rather than for nursing care," based on her statement in the investigation that she "thought it did not matter even if the patients lost some blood when their nails were cut," and the fact that she made false reports about what had happened when the problem surfaced.

Ueda appealed against the lower court's decision and pleaded not guilty, saying she just performed her duty. The defense showed video footage in which Ueda carefully cut the toenails of senior patients in an attempt to demonstrate her dedication.

Prosecutors, on the other hand, summoned a doctor to the courtroom, who criticized Ueda, saying: "There is no problem in how she treated the patients. But it cannot be justified without the consent of their families," while demanding the high court to dismiss her appeal, saying she wanted to damage the patients just for fun.


~~~~~~~~~~~~~~~~~~~~~~


つめ切り傷害:逆転無罪「正当な看護行為 福岡高裁判決
逆転無罪の判決に喜ぶ支援者ら=福岡市中央区の福岡高裁前で2010年9月16日、金澤稔撮影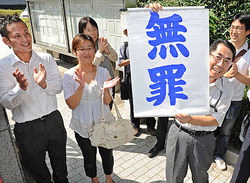 北九州市の病院で認知症の入院患者2人のつめを切り出血させたとして、傷害罪に問われ、1審福岡地裁小倉支部で懲役6月、執行猶予3年を言い渡された元北九州八幡東病院看護課長、上田里美被告(44)の控訴審判決が16日、福岡高裁であった。陶山博生裁判長は捜査段階の供述調書の信用性を否定したうえ、「1審には事実誤認がある」として1審を破棄。無罪を言い渡した。

 判決理由で陶山裁判長は、捜査段階で傷害行為を認めたとされる供述調書について、「捜査官の意図する内容になるよう押しつけられ、誘導されたものとの疑いが残る」と信用性を否定。また、「(一部の行為は)傷害罪に当たるが看護目的で方法も相当と言える範囲を逸脱していない。正当業務行為にあたり違法性は阻却される」と述べた。

 上田看護師は07年6月、当時70歳と89歳だった認知症の女性の入院患者2人の右足親指のつめをニッパー型のつめ切りで切除するなどし、けがをさせたとして起訴され、1審では懲役10月を求刑された。

 裁判は、被告のつめ切り行為がケア目的の看護師としての正当業務に当たるのか、否かが主な争点となった。

 1審は「看護行為の一環で患者のつめのケアをする際、指先より深い個所まで切っても直ちに傷害罪の構成要件に該当しない」と判示。その上で事件発覚時に上田看護師が患者の家族や上司に「なぜつめがはがれたかわからない」などと、うその説明をしたことや、捜査段階で「つめを切るとき少々の出血をみてもかまわないと思った」などとする供述調書の信用性を認め「看護行為でなく楽しみとして切った」と、有罪を言い渡した。

 上田看護師側はこれを不服として控訴。控訴審で、弁護側は上田看護師が実際に高齢者のつめを切っている映像などを法廷で流し、痛みや出血に配慮しながら、高い技術でつめのケアができることの立証を試み、「看護師としての正当業務だった」と無罪主張した。

 一方、検察側は他の病院医師を証人として法廷に呼んだ。医師は「行為自体は問題ない」と証言する一方、「患者の家族の同意などがなければケアとはいえない」と述べ、家族などにうその説明をした上田看護師の対応を批判。検察側は「楽しみのためつめを切り詰め出血させた傷害事件」と控訴棄却を求めていた。

 岩橋義明・福岡高検次席検事は「検察官の主張が認められず遺憾。判決を慎重に検討し今後の対応を検討したい」とコメントした。【岸達也】