JIADEP note: This case defies the imagination. A young high school girl arrives home late after meeting a boyfriend. Upon being scolded by her mother, she says she has been raped. She gives a police report, 10 boys are arrested, and later changes the date of the incident.


~~~~~~~~~~~~~~~~~~~~~~~


Attempted rape nets two-year terms Oct. 28, 2005

SHIZUOKA (Kyodo) The Shizuoka District Court on Thursday sentenced four men to two years in prison for the attempted rape of a 16-year-old girl in a park in Gotemba here four years ago. During the course of an investigation into the case, the defendants -- three aged 21 and one aged 20 -- initially admitted to the allegations. They later denied them, however, saying they had been coerced into their confessions. During the trial at the court's Numazu branch, prosecutors also changed the date of the alleged crime from Sept. 16, 2001, after the defense team noted that the girl's mobile phone records indicated she had been in a different place that day. Meanwhile, the alleged victim herself testified in court that the date was in fact Sept. 9. Defense lawyers said her testimony was illogical, claiming that she had fabricated the incident. The prosecution team argued, nevertheless, that aside from the date, her testimony was credible. According to the ruling, the four, then aged 16 and 17, tried to rape the girl at the park on the night of Sept. 9, along with six others. The defendants' names are being withheld because they were minors at the time of the incident.

~~~~~~~~~~~~~~~~~~~~~~~~ High court lowers prison sentences of four defendants in attempted rape case 2007/08/22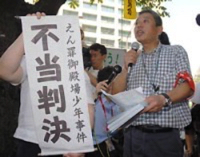 A supporter of the four defendants holds up a sign saying "unfair ruling" following the appeal hearing, in front of the Tokyo High Court on Wednesday morning.The Tokyo High Court on Wednesday scrapped a two-year prison sentence handed down to four defendants accused of attempting to rape a 15-year-old girl, and lowered the sentence to 18 months. In making the decision, the appeal court's presiding judge said that there were problems with the victim's statement of the facts, but it rejected claims by the defendants that the charges against them were false. The four defendants were accused of trying to rape a 15-year-old high school girl in Gotenba, Shizuoka Prefecture, in September 2001. At the time, they were aged between 16 and 17. In earlier hearings in the Numazu branch of the Shizuoka District Court, the victim changed the date of the incident from Sept. 16, 2001, to Sept. 9 that year. In the high court, the presiding judge stated that with the exception of the dates, the woman's testimony was "specific and natural." It added that statements made by the defendants about their alibis were "unbelievable." (Mainichi) August 22, 2007 御殿場強姦未遂:4被告2審も実刑 被害者供述「具体的」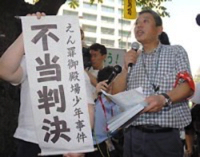 | | |
| --- | --- |
| 御殿場少年強姦未遂事件の控訴審判決で有罪となり、厳しい表情で不当判決の紙を手に抗議する支援者ら=東京都千代田区の東京高裁前で22日午前10時7分、木葉健二撮影 | |
 静岡県御殿場市で01年9月、女子高生(当時15歳)を集団で強姦(ごうかん)しようとしたとして、強姦未遂罪に問われた4被告(同16~17歳)の控訴審で、東京高裁は22日、懲役2年とした1審・静岡地裁沼津支部判決(05年10月)を破棄し、改めて懲役1年6月を言い渡した。中川武隆裁判長は冤罪(えんざい)だとする4被告の主張を退けた上で、「被害者の(事実関係の)申告にも問題があった」と減刑理由を述べた。弁護側は即日上告した。
 1審では、被害者が発生日を01年9月16日から9日に訂正し、検察が起訴事実を変更する異例の展開をたどり、捜査の甘さも指摘された。中川裁判長は被害者の供述について「日付を除いてほぼ一貫し、内容も具体的で自然だ」と信用性を認め、被告側のアリバイ主張は「信用できず成立しない」と断じた。
 事件では、少年10人が逮捕された。4被告以外は、5人が少年院送致などの保護処分を受けたが、うち1人について静岡家裁沼津支部が今年1月に刑事裁判の「再審」にあたる審判開始を決定した。残る1人は当初、無罪にあたる不処分になったが、検察側の抗告が認められて起訴され、5月に有罪判決を受け、控訴している。【銭場裕司、山田毅】
毎日新聞 
2007
年
8
月
22
日 
11
時
57
分 (最終更新時間 
8
月
22
日 
12
時
55
分)


End content


End main content wrapper
Start Footer


Start the breadcrumb wrapper