Kijima Kanae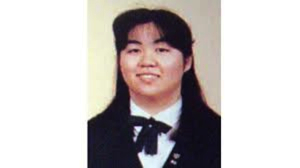 ~~~~~~~~

Woman handed death sentence for murder of 3 men
April 13, 2012(Mainichi Japan)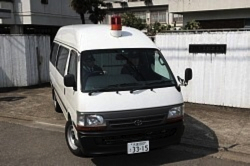 A van carrying Kanae Kijima leaves a detention center in Saitama for the Saitama District Court on April 13. (Mainichi)


SAITAMA -- A woman was handed a death sentence in a lay-judge trial here on April 13 for murdering three male acquaintances in the metropolitan area in a widely publicized case, despite her insistence on her innocence.

A team of lay and professional judges at the Saitama District Court convicted Kanae Kijima, 37, of murdering Takao Terada, 53, of Ome, Tokyo, Kenzo Ando, 80, a resident of Noda, Chiba Prefecture, and Yoshiyuki Oide, 41, from Chiyoda Ward, Tokyo, between January and August 2009 and making it look as if they had gassed themselves.

The focus of the trial was whether the three were murdered, killed themselves or died as a result of accidental fires.
Presiding Judge Kazuyuki Okuma recognized that Kijima murdered the three victims and made it appear as if they had gassed themselves to death by burning coal briquettes to generate carbon monoxide in enclosed spaces.

"There is sufficient evidence to prove her crimes," Okuma said. "The defendant trampled on the innocent victims' feelings."
Regarding the motives behind her crimes, the presiding judge said, "The defendant received huge amounts of money from the victims in order to maintain her luxurious lifestyle without working, and killed them in order to avoid repaying the money."

Regarding Terada's death, the judge denied that he killed himself, noting that there is no sign that he had purchased briquettes.
Okuma dismissed Kijima's claim that Terada gave her more than 10 million yen in cash the day they broke up.

"It's impossible to assume, based on common sense, that he handed over such a large amount of money to someone he would shortly break up with," the presiding judge said.
"It's impossible that anyone else but the defendant murdered Terada," Okuma said.

The court also determined that Kijima killed Ando because she took his money without his permission. "She feared that he would learn that she took his money without his consent and that he would demand repayment."
Furthermore, the presiding judge concluded that the defendant murdered Oide in order to avoid being pressed to return 4.7 million yen she had defrauded him of.

Kijima pleaded guilty to two counts of fraud, but denied the eight other counts, including the murder of the three men. Her defense lawyers pointed to the possibility that the victims committed suicide after she told them that she wanted break up with them, and urged the court to acquit her.
"Kijima never murdered anyone. The court should adhere to the principle of the 'benefit of the doubt in favor of the defendant,'" a lawyer on her defense team said.