Ueta Miyuki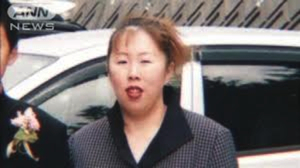 ~~~~~~~~~~~~


Japan: Death penalty to stand for woman convicted of murdering 2 men



Miyuki UetaTOKYO -- The death sentence given to a woman convicted of murdering two men in the western Japan prefecture of Tottori in 2009 is set to be finalized after the Supreme Court upheld lower court rulings Thursday.


The top court said in its ruling that the defendant carried out the premeditated and "cruel crimes based on firm intentions to kill" and she bears "grave criminal responsibility."

According to the lower court rulings, Miyuki Ueta, a 43-year-old former bar worker, drugged truck driver Kazumi Yabe, 47, and drowned him in the sea in April 2009 and she drugged and drowned in a river electronics store owner Hideki Maruyama, 57, in October of the same year.

Ueta, who owed money to both victims, maintained her innocence and the verdicts were based mainly on circumstantial evidence, including that Ueta was the last person to meet with the men before they went missing and she obtained sleeping pills beforehand.

In coming to his decision, judge Koike concluded that Ueta was the last point of contact for both victims; put the victims to sleep with drug-filled concoctions just before their deaths; and committed the crimes to escape from debts.

The defense had argued that it was impossible for Ueta to bring drugged men to the crime scenes herself.

In 2012, Ueta was sentenced to death by the Tottori District Court. Two years later, the Hiroshima High Court rejected an appeal by the defense.

Source: Japan Today, July 27, 2017


〜〜〜〜〜〜〜〜〜〜〜〜〜〜〜

Japanese court sentences Tottori woman to hang for killing two men who loaned her money


Kyodo


TOTTORI — The Tottori District Court sentenced a 38-year-old bar worker to death Tuesday for killing two men in 2009, finding she was motivated by a desire to avoid repaying debts she owed the victims.


Based only on circumstantial evidence, a former bar hostess who had maintained her innocence was sentenced to death in Tottori Prefecture on Dec. 4 over the mysterious deaths of two men in 2009. The case, considered a difficult one even for professional judges, was heard by a panel of lay judges, who arrived at the ruling after painstaking consideration of the circumstantial evidence.

To recognize guilt based on circumstantial evidence alone, a case must fulfill the criteria set by the 2010 Supreme Court ruling of a 2002 murder of a woman and her infant son in Osaka. It requires that circumstantial evidence include facts that would be extremely difficult to explain if the defendant were not the culprit.

In the Tottori case, the main pillar of the public prosecutors' argument was testimony from a former car salesman suggesting that the defendant, Miyuki Ueta, was involved in the men's deaths. The lay judges, however, did not just blindly accept the testimony, and instead considered the possibility of collusion between Ueta and the former salesman, as they were living together at the time of the murders. They filtered out content that could be trusted and that which could not, ultimately judging that Ueta alone had carried out the murders. Still, the sentence expressed doubt on some parts of the salesman's testimony. (By Chiharu Shibue, Osaka City News Department)



Tottori woman sentenced to death for double murder



TOTTORI -- A former bar hostess was sentenced to death by the Tottori District Court here on Dec. 4 for the serial killing of two men in 2009.


Presiding Judge Takushi Noguchi ruled that Miyuki Ueta, 38, had murdered the two men after robbing them to pay off personal debt and other financial obligations. Ueta had insisted on her innocence throughout the trial.


The prosecution had been unable to marshal any eye-witness testimony for their case against Ueta, but the court agreed that there was enough circumstantial evidence to convict her. The court also found her guilty of 16 counts of fraud for swindling victims out of cars and home electric appliances worth about 9.22 million yen. Ueta had essentially admitted to the fraud allegations.


The lay judge trial lasted 75 days from start to verdict, making it the second-longest lay judge trial after the 100 days the Saitama District Court took to hear the case of convicted serial killer Kanae Kijima, 37. The six lay judges were all in attendance for 19 hearings, and spent about a month after closing arguments to make a decision.Woman on trial for multiple murders declares her innocence in final statement


~~~~~~~~


TOTTORI -- A woman accused of robbing and murdering two men in the prefecture in 2009 continued to insist on her innocence in her final statement to the court here on Nov. 6.
November 07, 2012(Mainichi Japan)


"I did not do it," Miyuki Ueta, 38, told the Tottori District Court. The defense also wound up its final arguments by insisting that two major prosecution witnesses -- a former car salesman who had lived with Ueta and a police officer -- had "lied in their testimony, and thereby framed the defendant."


The prosecution used its closing argument on Nov. 5 to demand the death penalty for Ueta. The court is scheduled to deliver a verdict on Dec. 4.


During the trial's opening statements, the defense had claimed the former car salesmen -- already convicted of fraud -- was "the real culprit." On Nov. 6, however, the defense began its closing arguments by declaring it would "say completely different things than in the opening statement," as "during this trial, we have seen witnesses tell the most obvious lies."


According to Ueta's indictment, she drugged truck driver Kazumi Yabe, 47, and electronics shop owner Hideki Maruyama, 57, with sleeping pills and drowned them -- one in the sea and one in a river in order to avoid repaying her debts to Yabe and paying for electric appliances she bought from Maruyama.


In the case of Maruyama, the former car salesman testified that he had waited in a parking lot on the day of the crime at the instruction of Ueta, while the police officer stated that he had seen the salesman in his car at the lot in question. Ueta's defense called parts of the officer's testimony unnatural and unbelievable.


In Yabe's case, the car salesman said that on the order of Ueta, he came to the area near the crime scene "and bought a change of clothes." The defense said this statement, too, lacked credibility.





~~~~~~~~

Ex-bar hostess pleads not guilty over murder of 2 men in Tottori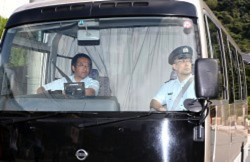 A car carrying Miyuki Ueta enters the Tottori District Court on the morning of Sept. 25. (Mainichi)


拡大写真


TOTTORI -- A former bar hostess pleaded not guilty to double murder-robbery charges in connection with the suspicious deaths of two men in Tottori Prefecture in 2009 on the opening day of her trial here on Sept. 25.


Miyuki Ueta, 38, from Tottori, claimed her innocence during a lay judge trial of her case that opened at the Tottori District Court on Sept. 25. "I didn't commit the crimes," she said, in reference to the two counts of murder-robbery charges for which she was indicted. Her defense counsel maintained that a man who was living with Ueta committed the crimes.


During their opening statement, prosecutors claimed that Ueta had been urged to repay 2.7 million yen in debts to her acquaintance, Kazumi Yabe, a 47-year-old truck driver, and to pay 1.23 million yen for electric home appliances to Hideki Maruyama, a 57-year-old electric store owner. In order to get off repaying the money, Ueta called the two men out, drugged them with sleeping pills that she had obtained from an acquaintance, and drowned them, prosecutors alleged.


Ueta's defense counsel, meanwhile, argued that a 48-year-old former auto salesperson, who was living with Ueta, was the perpetrator of the murders. The 48-year-old was sentenced to three years in prison for conspiring with Ueta for fraud and has already served out his sentence. The man has reportedly testified earlier that he was called out by Ueta to areas near the two crime scenes on the days of the murders of the two men and that she was with those men. He is likely to give testimony during Ueta's trial as a witness for the prosecution.


In their opening statement, the defense attorneys asserted that: it was the 48-year-old man, not Ueta, who had been urged to repay the debts to the two victims; and that the 48-year-old was the last person to have contacted the two men prior to their deaths. Prosecutors counter-argued, saying, "Ueta told lies to the 48-year-old, saying she was pregnant and was going to commit suicide, thereby manipulating him and soliciting him to commit fraud. He was only being used by Ueta."


Ueta has been indicted for a total of 16 counts of charges, including conspiring with the 48-year-old to swindle home appliances and other items worth a total of 9.22 million yen, as well as theft and trespassing. Ueta basically admitted to the charges other than the murders and robberies during the hearing on Sept. 25.


The trial is set to become the second longest lay judge trial, following the 100-day trial of Kanae Kijima, a 37-year-old woman sentenced to death for murdering three male acquaintances in the Tokyo metropolitan area. The ruling of Ueta's trial is scheduled to be handed down on Dec. 4.


September 25, 2012(Mainichi Japan)