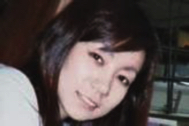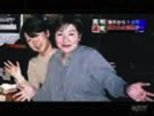 (Photos: Minako Ohkoshi (left) and with victim (right)


Eniwa Case
Defendant: Mina Ohkoshi
Crime March 17, 2000
Arrested: May 23, 2000
Convicted: March 26, 2003
Sentence 16 years


MIna is expected to be released at the end of her term in August 2016.


JIADEP Note: The Eniwa case is perhaps the most egregious cover up in postwar Japanese history. The real murderer is known to the police, the young woman being charged --Mina Ohkoshi- has been sacrificed to protect the real killer's identity.

The case bears many similiarities to the Kabutoyama case and the Bembenek case of the USA. In all three cases, women have brought law suits against police departments and were vengefully rearrested.

Michael Fox has been keenly involved with this case, leafletting on the streets of Sapporo, watching the court hearings, and visiting Ohkoshi in both detention and prison.

The retrial status of this case has been put on hold for the present. Her support association hopes that a request for retrial will be submitted in the future.

Other recommended reading for understanding police subterfuge to protect real criminals is


Police in dock over rape: Victim alleges coverup after key evidence of attack destroyed, lost
(Japan Times 2008/03/18)


~~~~~~~~~~~~~~~~~~~~~~~~~~~~~~


The Eniwa Case: Police Malfeasance and Vengeful Rearrest by Michael Fox

In March of 2001, the partially burned body of a 24 year old woman was found on a road in Eniwa town, on the northern Japanese island of Hokkaido. An autopsy revealed the cause of death to be strangulation. The police investigation focussed on Minako Ohkoshi a colleague of the deceased. Why Ohkoshi? She and the deceased left the office at the same time the night before the murder. She had recently dated and broke up with a young man employed at the company, whose attentions had shifted to the the murdered woman. Nearing age thirty, the break up was hard. Several days before the murder, Ohkoshi began a pattern of dialling the cell phone of the future victim. Over the course of one week, she dialled the number 220 times. Most of this was done semiconsciously, and only about 20 of the calls actually rang on the victim's phone. While the possibility of a love triangle offers much to the imagination, other evidence in the case clearly eliminates Ohkoshi as a suspect. The northern island of Hokkaido is snowed over during the winter. Footprints and tire tracks were found near the body. None of these matched Ohkoshi. The method of the killing suggests a different culprit. Police allege that the victim was strangled from the behind. This would assume that Ohkoshi lured the victim into her small two door car, climbed into the back seat, strangled her from the behind, and then dumped the body. At 155 cm (4-feet 11 inches) and of slight build, it seems farfetched to imagine such a scenario. Furthermore, no remains of a murder, i.e. DNA evidence, were found in Ohkoshi's car. Police may very well have had an ulterior motive for zooming in on Ohkoshi, i.e, to protect another suspect. At the onset of the investigation, they soon learned that one employee at the office where the two women worked was the son of a police official. Considering the hierarchical structure of police organizations, and multiply this effect by the very collective structure of the Japanese organization, one of the key suspects was protected by a inexorable sociological shield. Further evidence of a cover-up abounds. Police leaked Ohkoshi's name to the press in the incipient stages of the investigation, long before an arrest was made. Investigations are usually conducted secretly in order to prevent potential suspects from fleeing of destroying evidence. Two days after the dead body was discovered, Ohkoshi came out of her home and was shocked to find that a media crew filming her every motion. The strategy is to annoy and harass suspects, to soften them up before interrogations. Time went by and pressure began to mount for an arrest. Ohkoshi was called into the police station for voluntary questioning. She spent a whole day there discussing the case, and was requested to come back the next day. Two days soon turned into three and then four days. She contacted a local lawyer who accompanied her to the station for the fourth day. Police let up for a while and then called Ohkoshi back while her lawyer was away on a business trip. The interrogators became verbally abusive. Screaming violently, they called Ohkoshi "an un-marriageable old bag" and demanded she confess. When she tired to leave, a detective blocked the way, and Ohkoshi feinted. Some friends picked her up at the station. The next day she was diagnosed with a nervous breakdown and admitted into a hospital. While hospitalized, her attorney filed suit against the police seeking $25,000 in redress for abuse of power. Four weeks later, Ohkoshi was discharged from the hospital. The very next morning, she was arrested at her home and charged with murder. She was tried twice, found guilty, and and is now serving a 17 year sentence.

~~~~~~~~~~~~~~~~~~~~~~~~~~~~~

Friends strive to prove woman innocent of murder
Friday, Jan. 17, 2003
By KEIJI HIRANO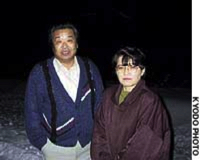 HAYAKITA, Hokkaido (Kyodo) Calligraphy teacher Ritsuko Tada was used to the quiet life in small-town Hokkaido, but all that changed when one of her students was arrested on suspicion of murdering a female colleague.

News photo
Ritsuko Tada and her husband, Masahiro, visit the site in Eniwa, Hokkaido, where a slain woman was found on March 17, 2000, to search for clues to prove their acquaintance, Minako Okoshi, is innocent of the crime.

"I was shocked by her arrest, but I could not believe she had been involved in the cruel murder," said Tada, 52, who also runs a coffee shop in Hayakita, a town of 5,600.

Her belief in the innocence of her longtime student, Minako Okoshi, has deepened by her feeling that the investigation carried out by police and prosecutors was "unreasonable," she said.

Okoshi, 32, was arrested on May 23, 2000, on suspicion of strangling a 24-year-old colleague and burning her body, allegedly out of jealousy because the victim tried to come between her and her boyfriend. She had repeatedly made harassing telephone calls to the victim's mobile phone.

Okoshi has continuously insisted she is innocent. Her murder trial now concluded, she is awaiting the verdict. Prosecutors have demanded an 18-year prison term.

Tada said, however, that prosectors' arguments raise numerous questions, leading her, her husband, Masahiro, 55, and Okoshi's former classmates to come out in her support.

According to Tada, prosecutors insist Okoshi strangled the victim with a towel in her car "in the city of Chitose, Eniwa or their vicinity," but investigators failed to find any evidence of the victim in the car, including hair, body fluids or fingerprints.

"Investigators could not specify the towel supposedly used to commit the crime," Tada said. "It's also unlikely that Minako, who is 14 cm shorter than the victim and whose fingers are shorter than ordinary people's due to underdevelopment, could strangle the victim without injuring herself and leaving some evidence in her car.

"I could not accept (what was concluded by the) investigation," she said.

Okoshi's supporters went as far as conducting an experiment to prove her innocence by burning a pig.

They bought a dead 60-kg pig, doused it with 10 liters of kerosene and then burned it -- as prosecutors claim Okoshi burned the victim's body, which was believed to be around 53 kg, using the same amount of kerosene.

"Our experiment showed the pig, which already had all its blood and entrails removed, had lost about 9 kg after burning for one hour, while the victim's body lost 30 kg even though it was less combustible than the pig carcass," Tada said.

Lawyers for Okoshi did not submit the result of the experiment but did argue that 10 liters of kerosene is not enough to carbonize a corpse, as had happened with the victim's body, and that it is likely the killer used a highly combustible fuel, such as aviation fuel.

Immediately after the discovery of the burned body on March 17, 2000, investigators, as well as reporters, put Okoshi under surveillance for two months until her arrest, during which time Tada and her husband tried to protect her from them.

"Minako was followed by more than 10 cars, from which reporters continuously took her picture in order to broadcast and print them after her arrest. Some media reported that Minako had looked sharply at the reporters, without (their) knowing she is very shortsighted," Tada said. "Now I often doubt the news reports I read."

Investigators argue that Okoshi abandoned the victim's belongings while she was under 24-hour surveillance, which Masahiro, a member of the town assembly, calls absurd.

While it was the first experience for Okoshi's supporters, including the Tadas, to visit a court, they continued attending her trial so they could compile newsletters to defend her and update a Web site they created following her arrest.

"I did not understand the legal terms at first, but I've gradually become accustomed to them," Tada said. Her bookshelf is now brimming with legal books.

Hideko Ito, chief defense lawyer for Okoshi, said, "Mr. and Mrs. Tada have helped us a lot in establishing her innocence."

Okoshi's father, Keiji, 68, said, "I am really grateful to them."

In their closing argument before the Sapporo District Court in mid-December, the defense lawyers attacked the prosecutors, saying their claims are far-fetched and utterly ridiculous.

They also argued that the victim was probably slain by two or more males, partly because the crime was carried out in a short time and also because the victim's abdomen was particularly badly burned, suggesting an effort to conceal evidence of sexual abuse.

"The profiling may have been unnecessary, however, as we wanted to show that Ms. Okoshi is innocent, not (just) because prosecutors failed to submit sufficient evidence but because she is quite different from the criminal profile," they said in their statement. "We also wanted to urge investigators to try again to find the real culprits."

Okoshi told the court after the closing argument, "I did not kill her and did not burn her body."

A verdict is scheduled to be handed down March 26, but the legal battle between Okoshi and the prosecutors will continue as the loser will definitely appeal to a higher court.

"We are ready to continue supporting her," the Tadas said in a statement.


~~~~~~~~~~~~~~~~~~~~~~~~~~~~~


Shinchosha must pay murderer for defamation Jan. 24, 2007 Kyodo News

The Tokyo District Court on Tuesday ordered publisher Shinchosha Co. to pay 2.2 million yen to a woman in prison for murder and halt sales of a book about her, agreeing with her that the book's allegations she had committed other crimes constituted defamation of character. Minako Okoshi, 36, is serving a 16-year prison sentence for murdering a 24-year-old colleague and burning the body in March 2000. Presiding Judge Shin Takano called the book defamatory, saying accusations that Okoshi committed several arsons and thefts at her workplace were based only on accounts from her coworkers and have not been confirmed by police or any of her supposed victims. "There are no grounds to believe that the story is true," Takano said. But the court limited the suspension order to cover only the portions referring to the allegation, meaning the publisher can still sell the book if it deletes those references. Shinchosha, a major book and magazine publisher, said it will appeal. Okoshi had brought a defamation and damages suit, seeking suspension of book sales as well as 5.5 million yen from Shinchosha. Tokyo-based Shinchosha first published the account in its Shincho 45 monthly magazine in January 2002, according to the court. In November that year, it released the story in paperback. Okoshi was arrested in May 2000 after her coworker's body was found that March on a road in Eniwa, Hokkaido. She was convicted in March 2003 and lost two appeals. She pleaded not guilty in all three trials.

~~~~~~~~~~~~~~~~~~~~~~~~~~~~~


2007/10/18


High court rules against suspension of sales of 'libelous' paperback Thursday, October 18, 2007 (Kyodo News)

TOKYO — The Tokyo High Court ruled Thursday against a lower court decision that ordered publisher Shinchosha Co to suspend sales of a paperback edition of a story originally carried in a magazine on the 2000 murder of a woman in Hokkaido, allowing the publisher to sell the book the plaintiff said was libelous. Meanwhile, the high court ordered the Tokyo-based publishing house to pay 1.1 million yen in damages to the plaintiff, Minako Okoshi, 37, who is serving a 16-year prison sentence for strangling a 24-year-old colleague and burning her body in March 2000. The Tokyo District Court in January ordered the publisher to suspend sales of the paperback edition, saying that in the Shichosha story Okoshi is accused of committing arson and theft at her workplace in addition to murder but that this allegation had not been confirmed with the police or the victims.

~~~~~~~~~~~~~~~~~~~~~~~~~~~~~